Last week, we took Year 9 GCSE students to The Belgrade Theatre in Coventry to see a matinee performance of Noughts and Crosses; a playtext they have been studying in their GCSE drama lessons. Noughts and Crosses is originally a novel written by Malorie Blackman, adapted for the stage. It tells the story of Callum – a nought and Sephy – a cross and how they steer through a segregated society whilst falling for one another.
Why love, if losing hurts so much?
Teenagers Sephy and Callum sit together on a beach. They are in love.
It is forbidden.
Between Noughts and Crosses there are racial and social divides. A segregated society teeters on a volatile knife edge. As violence breaks out, Sephy and Callum draw closer, but this is a romance that will lead them into terrible danger.
The use of set for this performance proved to be very interesting. It was used in multitude of ways such as a way to hold props, a way for us see news reports which were re-occurring throughout the whole of the performance as the tv screens were integrated into the set. It was also used as a way for us to see characters in different rooms such as a bedroom whilst our main scene was set in the kitchen.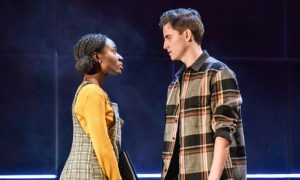 The light used gave a real tense atmosphere to the production as a red light washed over the stage almost constantly. A particular highlight was when Callum was taken down a hallway and the hallway was created using light as a path for him to follow.
The nature of this performance takes on some adult themes such as terrorism and death which were handled by the actors and direction of the piece in a sensitive manner. There were some real heart-wrenching moments which were well communicated by the cast which really made you connect with the characters.
We came away from the piece thoughtful, contemplating how if things were turned on their heads, as they are in Noughts and Crosses, how all aspects of living can be affected.
Ethan wrote this review:
Noughts and Crosses was a matinee play that tells the story of a boy called Callum – who is a nought – and Sephy – who is a cross –  and how they had managed to have a relationship whilst being in a discriminated and segregated society, but as violence breaks out in their society, their relationship will lead them both into terrible danger.

The part that I enjoyed was the scene when a bomb had gone off in their town centre and Callum had to run into a crosses only restaurant to save Sephy. The reason why this was my favourite part of the play is because it made me feel quite tense inside as I was wondering what would happen to both Callum and Sephy.

The part of the play that shocked me the most was when Callum was being executed. This is because as Callum was executed, the whole theatre turned dark with a loud bang instantly. The reason why this scene was the most shocking part was because I was not expecting such a quick reaction to such a simple action.
Miss Boyle