---
Year 6 to Year 7 Transition
Transition letter – Information survey
Transition pupils challenge task: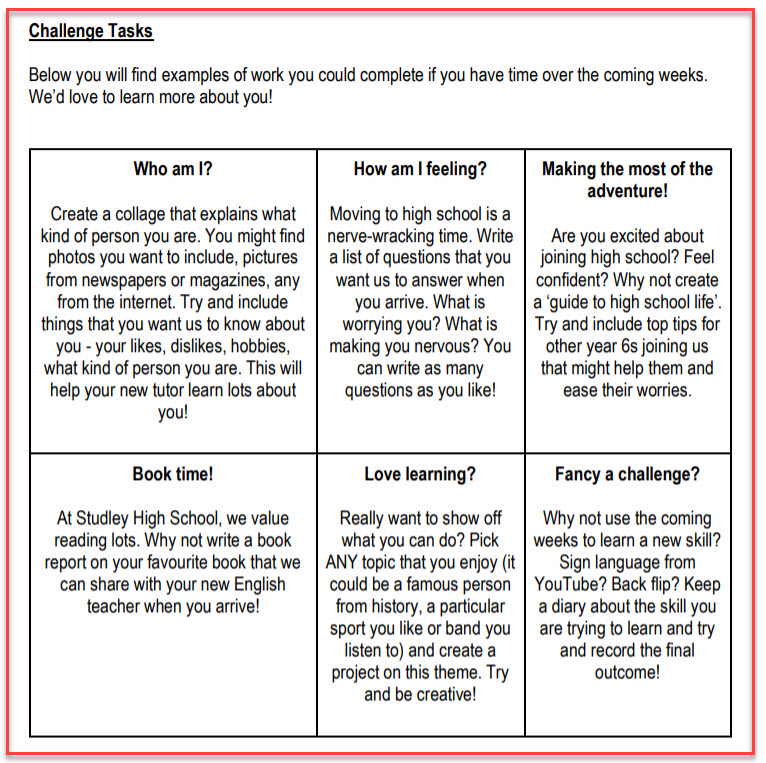 The transition from primary to high or secondary school is an exciting time, full of challenges and experiences for both parent and child. We work very hard to ensure maximum success for all our pupils so they are ready for the challenges of high school, enjoying new friendships and the new opportunities high school brings. We work closely with the Year 6 teachers to ensure that we receive all the required information about our new pupils.
Towards the end of Summer Term we offer the opportunity for both pupils and parents to come into school, meet staff and become immersed in Studley High School life for two days.
Pupils joining us in the new academic year will be placed in a House group of around 180 pupils, and designated a tutor group with 20 other pupils of all year groups.
On transition day, pupils can look forward to:
•    Investigating and exploring ideas and topics that interest and excite
•    Considering (and solving!) lots of "real life" situations, issues and problems
•    Working on your own and also in groups of all different sizes
•    Using computers, cameras and other technology
Here are some top tips for pupils joining us in Year 7, taken from this site: http://www.theschoolrun.com/how-survive-starting-secondary-school
Go to transition and induction events, get to know a few people and see who is in your class. They may not turn out to be your new BFFs, but knowing a face in the crowd is a good feeling. And people will want to be friendly – you're all new together.
Buy an alarm clock. Period 1 lesson starts at 8:30am so if you have a long journey, you may have an early start.
Always eat some breakfast, even if you feel nervous. It's quite a wait until lunch.
If you're wearing a blazer for the first time, don't buy it too much bigger than you need. You will need to use your hands.
If you'll need to use a travel pass, make sure you apply for it in plenty of time – it may take a couple of weeks to come through, so don't leave it until the end of the holidays.
Work out your route to school, whether you're walking or taking public transport. Practise until you're confident and time yourself. Also, make sure you have an alternative route in case of problems with transport or people you want to avoid. If it helps, draw a map.
Buy a very big, very strong bag. You will have loads to carry. And that's not counting the days when you'll have your PE kit.
If you can, find a friend to walk with on your first day. Things won't seem so daunting if you can travel with someone.
Be prepared to just 'hang out' at playtime.
Don't call it 'playtime' – it's 'break' now.
Work out how you'll be paying for your lunch – we have a fingerprint system, make sure you're topped up for your first day.
Try not to eat pizza every day.
Find out where the toilets are.
Make sure you turn your mobile phone off during school time.
When you are given your timetable, make at least three copies: one for your bag, one for your pocket and a spare for home.
Be organised. If you're given a student diary or planner, use it to write down your homework – when there is so much going on, it's easy to forget.
Go through your timetable and pack your bag the night before – there's never time in the morning to find your maths book.
Visit the LRC. It's a great place to go if you want to do some homework or just avoid the playground.
Never be afraid to ask for help if you're not sure where to go.
At lesson changeover, stick with someone who knows where they're going. And don't try to go against the flow of traffic.
Relax and try to enjoy it – in no time at all, it'll seem like you've been there forever. And this time next year, you'll be showing the new intake around the school.